2017 General Assembly framework documents
13.04.2017 ( Last modified: 26.04.2017 )
The members of TRIAL International are invited to its General Assembly, thereby contributing to shaping the organization's future. 
The 2017 General Assembly will take place on Thursday 4 May from 6:15pm in Geneva.
Venue
15, rue des Savoises
1205 – Geneva
Agenda
18:15                   Welcome drinks
18:45                  Introduction by the President and presentation of the activity report 2016
19:20                  Plan of actions for 2017 – proposals and discussion
19:50                  Statutory changes
20:10                 Election of the new President
20.20                 Election or reelection of five Board members
20:30                 2016 accounts & balance sheet, 2017 budget, determination of membership fee, and appointment of auditors of the 2017 accounts
20:45                  Miscellaneous and end of the General Assembly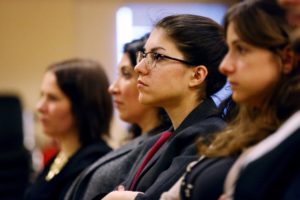 Framework documents
The following documents are made available to TRIAL International's members :
Not a member yet? Membership is open to everyone.