TRIAL International's General Assembly 2019
09.05.2019 ( Last modified: 16.05.2019 )
All members of TRIAL International are invited to its General Assembly on Thursday 16 May 2019 at 6:30PM. This annual event is an important moment to look back on past achievements and prepare the organization's future.
VENUE
Maison des Associations – Room Équitable (ground floor, next to the restaurant)
15, rue des Savoises
1205 – Geneva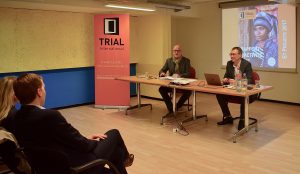 AGENDA
18.30         Introduction by the President
18.35         Presentation of the activity report 2018 by the Director
19.00         Plan of actions 2019 – proposals and discussion
19.45         Election
20.00         2018 accounts and balance sheet, 2019 budget, determination of membership fee, appointment of the external auditor 2019
20.30         Miscellaneous and end of the General Assembly
FRAMEWORK DOCUMENTS
The following documents are made available to TRIAL International's members :
Not a member yet? Please consider joining today!