The Gambia: The ear of Banjul
14.11.2019 ( Last modified: 15.09.2021 )
Silvia Lorenzi is a clinical psychologist and psychotherapist in Banjul, The Gambia's capital. She has been working with TRIAL International for three years, offering psychological support to three victims of Ousman Sonko, former Gambian Minister of Interior, who is under investigation in Switzerland for crimes against humanity. A portrait.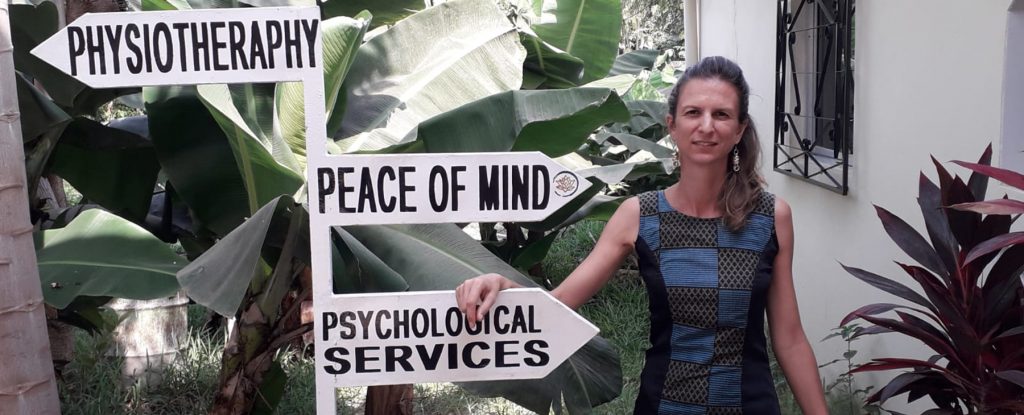 Four years ago, Silvia Lorenzi arrived in Banjul from her native Italy. She had been toying with this project for a long time with her Gambian husband, whose surname she bears today: Jawneh. Before she could make her African dream come true, however, she had to finish her specialization in psychotherapy. Then, she had to wait until their three children were ready for the move.
Upon arriving in The Gambia, she discovered a country in which the very notion of psychological support was vague. People talked about it without really knowing what it was, she recalls. That gap was only partially bridged by medicine, that most often settled for pharmaceutical solutions to mend troubles of the soul. To this day, she is probably the only psychotherapist in The Gambia. Only a handful of psychologists are currently registered in The Gambia, and they are not active in the clinical field — they teach at university. As a result, she had literally no competition when she opened her practice in Banjul in 2015.
Create an atmosphere of trust
Time seems to have stopped in the room full of cushions where Silvia Lorenzi receives her patients, hidden from the street behind high walls. It did not take long for her to start having sessions, at first mainly with a few people from the expatriate community. Then, gradually, Gambians began seeking her help. To this day, they are primarily from the capital and its close surroundings, and are exclusively young people. The first contacts she made had come easier than she expected — being a foreigner helps to loosen tongues.
The Gambia is a small country, with a very tight community. Initial contacts were facilitated because she is outside this community, she explains. Generally, locals are afraid to talk about private matters because stories spread quickly. Within minutes, your neighbor is privy to your most intimate secrets. Moreover, she has observed, Gambians tend to trust white people more readily. To overcome the occasional language barrier, an interpreter sometimes attends the sessions.
A heavy past to bear
Among the fifteen or so patients whom she sees regularly, three have a special status in her eyes. Almost three years ago, TRIAL International contacted her to help three individuals supported by the NGO — victims of the era of Yahya Jammeh, the dictator who ruled The Gambia with an iron fist from 1994 to 2016. Under his authoritarian regime, torture, rape, extrajudicial killings and a countless number of other human rights violations were standard practice, and many members of the State apparatus were involved. While collecting testimonies of the victims of one such member arrested in Switzerland, TRIAL International's teams realized the need for psychological support. For the victims, sharing what they had experienced had rekindled the trauma. They needed help back home.
Since she began treating these special patients, Silvia Lorenzi has witnessed their ups and downs. For people who have gone through traumatizing events, the healing process is bound to be a long one, she says. And the life they lead today also has a strong impact on their psychological state. Some of them now face financial difficulties or struggle to find their place in society.
Silvia says she does everything she can to help them realize that, despite the burden of those dark years, they can take their health into their own hands, to draw a line under the past and move forward.