Trainings resume in Nepal under strict sanitary precautions
06.10.2020
Anti-pandemic measures have eased slightly in Nepal, allowing TRIAL International's local partner, the Human Rights and Justice Centre (HRJC) to restart its capacity-building sessions for human rights defenders.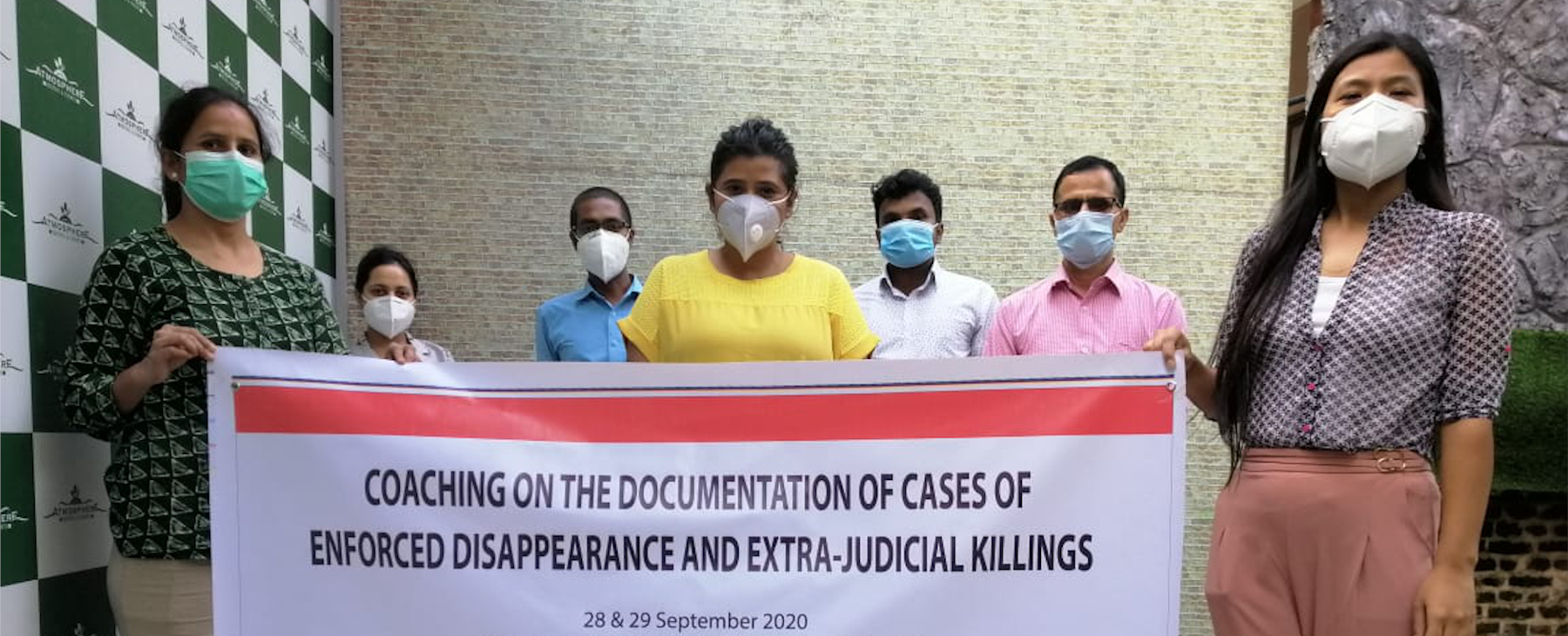 After several months of remote work, the HRJC held its first in-person training session on 28 and 29 September 2020. As part of a project funded by the European Union, three men and one woman were trained on the documentation of enforced disappearance and extrajudicial killings.
The session was meant to be conducted last March but was postponed due to the spread of COVID-19. While online sessions had been envisaged, it was ultimately decided that in-person sessions would yield better results.
"Physical presence not only helped in creating a bond between the participants, but also made it easier for the trainer to pass on the knowledge" explained Salina Kafle, who organized the training for the HRJC. "Given the Internet network problems in Nepal, only physical presence allows participants to participate so actively and freely."
A choice that paid off: participants expressed 83% satisfaction and relevance of the session in their future work. All sanitary measures were applied to guarantee the protection of the organizers and the participants.
Personalized, long-term coaching
The session was designed to strengthen participants' knowledge of all the steps and strategies involved in documenting cases of enforced disappearance and extrajudicial killings committed in Nepal, in line with international standards, and support them in the development of effective skills to carry out such a documentation.
This first group session is the beginning of a six-month coaching program whereby each participant will document a real case of enforced disappearance or extrajudicial killings. "I have often conducted documentation in my career, but after this session I see that I have been discarding many important aspects" analyzed participant Sanjeev Shah.
For maximum inclusiveness, the trainees came from various districts of Nepal and three of them belonged to traditionally underrepresented indigenous or minority groups.
Practical tool and hands-on missions
On the first day, trainees learnt to plan their documenting missions, filling in templates of case information collection, mission plans and mission reports. The second day focused on the risk-assessment and management. As a practical exercise, each participant developed a security protocol for their upcoming documentation mission. "Unlike other short-term trainings, in this one we 'work and learn' and 'learn and work'- an excellent way of improving" said Matrika Prasad Khanal, a participant.
After the complete documentation of the cases, the HRJC and TRIAL International will analyse them and seek their possible litigation in the future.
"We are hopeful that the situation will normalize gradually, and that we can resume our fact-finding work. For many victims, the last months have further delayed their quest for justice: their yearning is all the stronger for it" concludes Salina Kafle.
This training was funded by the European Union under the coordination of TRIAL International, and conducted in close partnership with its local partner, the Human Rights and Justice Centre.